14 May

"Separated immigrant children may suffer lifelong effects," By Andrew Malekoff, Times Union, May 13, 2019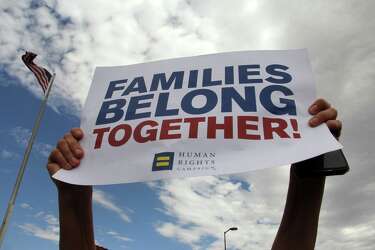 In this file photo taken on June 30, 2018 a person holds a sign during protest against US immigration policies on the international bridge between Mexico and the US, in Ciudad Juarez, Mexico. (HERIKA MARTINEZ/AFP/Getty Images)
Just the other day I had a conversation with a young father who, along with his wife, bought their first house. He described moving from their apartment to his in-laws' home in preparation for the big move. He spoke about how discombobulated their 2-year-old daughter was as a result.
Now, imagine if instead of a move to a new house, that child was unceremoniously taken away by strangers and placed in an unfamiliar setting, with people she never met before, for an undetermined period of time. Picturing this sends chills up my spine.
The separation of thousands of migrant children from their parents at our southern border has generated enough finger-pointing to overshadow the focus on the long-term traumatic impact of the zero-tolerance family separation policy on the children, especially the youngest ones.
The subjects of debate include which president bears the greatest responsibility for the separation policy; whether an area enclosed by a cyclone fence used to involuntarily house children is a cage or a shelter; and whether a zero-tolerance policy is an effective deterrent.
Somewhere beyond politics, the truth exists about the real impact of prolonged separation on children's emotional well-being. Yet, even that has become a subject of debate.
Some supporters of the zero-tolerance policy argue that the separated children are probably better off because while they are detained, they'll be more likely to get better health care, more recreational options and nutritional meals.
They forget to mention toxic stress. They will get that too.
The American Academy of Pediatrics affirmed that "Highly stressful experiences, like family separation, can cause irreparable harm, disrupting a child's brain architecture," and that "prolonged exposure to serious stress — known as toxic stress — can carry lifelong consequences for children."
The consequences of this adverse childhood experience include learning difficulties, behavior problems, difficulty regulating emotions and increased and potentially debilitating physical and mental health issues.
As it currently stands, a large majority of the estimated 2,400 separated children have been reunited with their families, or placed with a relative in the U.S. following the June 13, 2018, executive order reversing the zero-tolerance family separation policy.
In viewing broadcast footage taken at several such reunifications, it does not take a trained eye to see the heightened levels of anxiety and dysregulation that the children are experiencing. Returning from what amounts to sudden and involuntary detention is just not the same as a return home after a month at sleepaway camp.
Despite the executive order reversing the zero-tolerance policy, recently released government data indicate that at least 250 children have been separated from their parents since that time.
The damage done to thousands of innocent young lives at the border was an unforced error by the United States. It was entirely unnecessary because it is not a deterrent for a parent who fears that his or her child's life is in danger in their home country.
The fact that separating children from their families and placing them in an institutional environment can lead to irreversible changes in their brains is a violation of human rights and an atrocity.
The good news is that the children have a decent chance of recovering from toxic stress — provided that they and their parents get quality professional bilingual mental health counseling upon reunification. But what are the odds of that happening? The Refugee Mental Health Resource Network states that there is an increasing need for services for asylum seekers, and the demand far exceeds the supply of mental health professionals.
According to Allan Shapiro, a pediatrician and co-founder of Terra Firma, a nationally recognized medical-legal partnership located in the South Bronx, the office of the inspector general found that separated children placed in office of refugee resettlement care face a mental health staff-to-child ratio of 1:100. That includes staff who have not been fingerprinted or otherwise properly vetted.
To the extent that the federal government does not actively facilitate the children getting the quality mental health care that they need, we will forever bear responsibility for the havoc it will wreak on their future lives.
Andrew Malekoff is the executive director of North Shore Child & Family Guidance Center on Long Island, which provides comprehensive mental health services for children from birth through 24 and their families. www.northshorechildguidance.org.